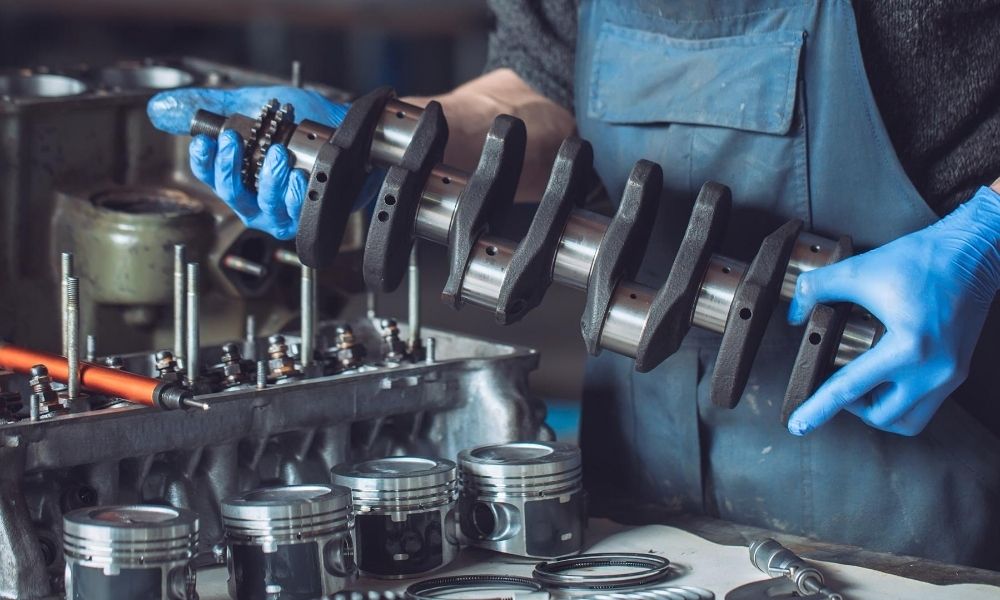 When purchasing a used car, the vehicle title is one of the most important aspects to pay attention to. Also known as a pink slip, a vehicle title includes a plethora of important information pertaining to the vehicle such as changes in ownership, the vehicle identification number, a description of the car, the license plate number, and other identifying information about the vehicle.
Perhaps most importantly, a vehicle title can provide insight into the vehicle's past and current condition. Such insight will help you determine if a vehicle a good deal or if it will end up causing more problems than it is worth. One of the vehicle titles that you may come across when purchasing a used car is a rebuilt title. To learn more about what a rebuilt title is and whether you should purchase a car that has one, here's everything you need to know about rebuilt cars.
What is a rebuilt title car?
A rebuilt title car is essentially a rebranded vehicle that previously held a salvage title. However, unlike salvage title vehicles, a rebuilt title car is considered roadworthy and can legally be driven.
To earn a rebuilt title, the salvage title vehicle must first undergo extensive repairs which are carefully documented and then receive an inspection by a state inspection facility. Upon passing the inspection, an owner can apply for a rebranded title, which is typically either a rebuilt or rebuilt salvage title.
Benefits of purchasing a rebuilt title car
Lower cost: Because rebuilt title cars have typically experienced extensive damage and were previously salvaged, they are often less expensive than a clean title vehicle. If you are looking for a cost-effective car or have a tight budget to adhere to, a car with a rebuilt title can be a great option.
They are road-ready: Unlike salvage title cars which can't legally be driven due to the damage they have sustained, rebuilt title cars allow you to purchase a road-ready vehicle at a considerably lower price than most models. Because all of the necessary repairs have been completed and the vehicle has already passed a state inspection, you don't have to worry about putting in an extensive amount of work fixing up the vehicle like you typically would with other branded titles.
The car may not have experienced substantial damage: Not all rebuilt cars have undergone extensive damage. In some cases, cars are given a salvaged title because they were reported stolen for over 21 days and then recovered. In such an instance, the car may not have received any damage. However, it would still be given a salvage title. Another instance when relatively undamaged cars are given a salvage title is when insurance companies want to avoid paying out large claims considered by the insured. While such instances are admittedly rare, there are some cases when a rebuilt title car hasn't experienced substantial damage.
Should you purchase a rebuilt title car?
While purchasing a rebuilt title car offers several benefits, there are also a few risks to consider before signing on the dotted line. For example, some insurance companies don't provide coverage for rebuilt title cars. As such, there is a chance that your current auto insurance provider may not be willing to cover a vehicle with a rebuilt title. To avoid purchasing a car that you won't be able to receive coverage for, make sure to contact your insurance company before making a purchase.
Another potential downside to consider when purchasing a rebuilt title car that its integrity may be compromised. Because most rebuilt cars were salvaged at one point because the damage they received exceeded 75 percent of the vehicle's value, there is an increased likelihood that such damage could impair the operation of the vehicle—especially if the damage was structural rather than cosmetic—and result in frequent, expensive repairs. That being said, such a risk can be mitigated by following the tips listed below.
What to do before purchasing a rebuilt title car
As previously stated, there are a few risks that accompany purchasing a vehicle with a rebuilt title. To avoid spending a substantial chunk of money on a car that needs more work than it's worth, here are some important precautionary steps to take before purchasing a rebuilt title car.
Look into the car's history
While the vehicle title can tell you a lot about the car's condition, it doesn't tell you everything. To gain a more comprehensive understanding of the current state of the car, consider doing some digging into its history.
Using the vehicle identification number listed on the title, you can easily look up the car's vehicle history report for free on websites such as Carfax or AutoCheck. Taking the time to complete a vehicle history check can alert you to any red flags in the vehicle's past.
Get a pre-purchase inspection
While a rebuilt car had to have already passed a state inspection in order to receive its title, it is still a good idea to issue an inspection of your own. By enlisting an independent professional mechanic to conduct a pre-purchase inspection, you can uncover any potential issues that slipped through the cracks or were covered up by the seller. While the pre-purchase inspection may cost around $100, it could save you a lot of money by preventing you from purchasing a car that needs extensive repairs.
Ask for a fair price
Another important thing that you need to know about rebuilt cars is how to get a good deal when purchasing one. Before paying the asking price for a rebuilt title vehicle, make sure to determine if the seller is giving you a fair deal. The resale value of a rebuilt title cars is typically substantially affected to account for the greater risk that the buyer is taking on for purchasing a vehicle that has received extensive damage in the past.
As such, the selling price of the vehicle should be significantly lower than similar models that have a clean title—even if the rebuilt title car looks as good as new. Kelly Blue Book is a valuable resource for comparing the prices of similar vehicle models. If the selling price seems a little lofty, try to negotiate a more reasonable price to ensure that you get a good deal.
The AE of Miami offers an extensive stock of repairable vehicles for sale in Miami, Florida. Our inventory includes salvage, clean, and rebuilt title vehicles which can be exported to locations all over the world. If you're interested in getting a great deal on a rebuilt title vehicle, shop The AE of Miami today.